7/8/04 We are off and headed up the Huson now. Once we got out of the city the river got calm and we saw very little boat traffic for such a famous river. Our budget will not allow us to stay more than one night in a $117 marina. Debbie told me we are over budget for the week already and it's only Thursday. Looks like we will be anchoring a lot and eating sandwiches for a while. We are anchored for the night in Haverstraw Bay, north of the Tappen Zee Bridge. On the way past George Washington Bridge we were passed by a police boat and then the Coast Guard and lots of talk on the radio from the Coast Guard about an elderly woman in the water near the base of the bridge. We couldn't tell if she jumped or what but they all disbanned about the time we got close enough to check it out. Good thing! I was fishing under a bridge a few years back when some kids in a boat hit the bridge after a party late at night. My buddy and I were the only ones out that night and we managed to save two of the kids but a third one was found later that night about 20 feet down. He had died of massive head trauma from the impact with the concrete abuttment. I spoke with one of the kids months later and he had been changed forever from this event. Me too.
7/9/04 We made it to just north of West Point Military Academy. Interesting place with lots of old stone buildings. We didn't stop because it was getting late and we needed to find a place to anchor. The Hudson is 100+ feet deep here so we found a shallow cove and put out the hook. The wind and trains kept us up for a while but we always get a good nights sleep on the anchor.
7/10/04 Made Kingston, NY by noon and decided to stop for lunch and the idea of a $2 per hour dock sounded to allow us off the boat for a while. We had a nice meal at the resturant right on by the dock and decide to take the trolley for a dollar each to see the town of Kingston. Interesting ride. Sharon was our driver and gives a running commentary on the history of the town and everything else. She talks and looks a bit like Rosanne Barr. We were in stiches listening to her talk while whe drove us around town for 2 hours, all for a buck each. At one point a fire truck came up behind us in traffic and we ended up running traffic lights and franticly trying to get out of their way. It was wild. Kingston is a town that had a hard time when IBM left and took all the jobs with them but looks to be making it's way back. Their waterfront is alive on Friday nights and we ended up staying the night.
7/11/04 We are now in the little village of Waterford, NY at the free docks for a few days. They are so nice to boaters when you get to the Erie Canal. If anyone has a boat they owe it to themselves to do the Erie Canal at least once. We are decideing if we want to do the Erie first or go up to Lake Champlain and then do the Erie on the way back. I think we will go the Erie and still try to make it to Canada. Lake Ontario is the only concern we have about going further north. We are at the proverbial fork in the river and we need to decide by tomorrow.
Left or Right??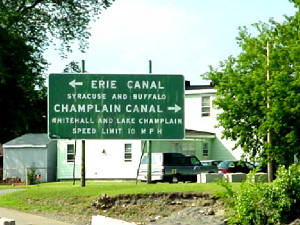 Ducky boat near Albany, NY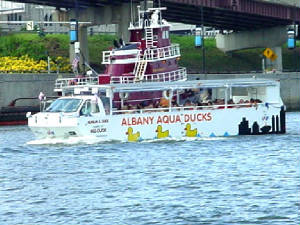 7/14/04 We stayed another day in Waterford and last night we were in the town of Amsterdam, NY. tied at the lock wall for FREE. I think free might be my new favorite word. I fished off the boat last night and caught 3 big carp. Few people know that carp is the number one food fish in the world. Just ask a billion Chinese folks. Today we have been following the Mohawk River as it upstream as it wanders through the NY country side. we are coming up to Lock 17, which is a 40 foot lift. The highest lift in this canal system. Instead of lock doors that swing out, it has a guilotine?sp type gate that lifts over the boat to let you under. I'm not sure about the guilotine idea..... Another funny thing occured to me today. The GPS, besides putting us on the New York Thru-way at one point, say's my top speed so far has been 24.6 knots. The only thing I can figure is that it got my speed as we fell off the waves in Manasquan Inlet, NJ. It felt like we hit the bottom at that speed anyways. Debbie is becoming a real lock master. We have a contest going to see if the fenders in the back of the boat are cleaner than the ones on my end, the front, which involves holding the boat off the nasty, slimmy lock walls. We have 3 fenders on eaach side that stay out all the time. Everyone does it so it's not considered un-yachtsman like. Try that in south Florida.... We have met a lot of older couples doing the Great Circle Route in trawlers and even one in a sailboat. That trip is about 5-6000 miles long and we considered it but not this time or with this boat. We keep passing remnants of the old Erie Canal from the 1800's. It's neat to think that they pulled barges with mules along the canal before boats had engines. Our outboard just burped/ It's been running a little rough at 3400rpm but seems to do fine at all other speeds. Trouble is that we cruise at 3400 rpm. I'll need to take a look at it tonight. I guess I'll change the fuel filter just in case. We are headed to Little Falls, NY to spend the night. Our cruising guide say's that this is possibly the best stop on the canal. We'll see. The do have a movie theater that I'm sure will get Debbie's attention. I almost forgot, we had lunch today at McDonald's for the first time in 2 months. I told you I love this canal!!
7/17/04 We spent the last two nights at the village of Sylvan Beach, at the east end of Lake Onieda. Sylvan Beach is reminsent of the old summer resort towns of the past. They have a small amusement park for the kids, lots of rental cottages and nice resturants. They also have a beach on the shore of Lake Onieda that all the people use. The lake is about 18 miles long and 5 miles wide and we decided to wait for an east wind to go west on and the trip was quick. Sylvan Beach is the kind of town you see in a nice movie. Everyone is happy and life is a little slower there. I even found a little one chair barber to cut my hair since it's been almost 8 weeks since my last and get this, the barber was maybe 25 and did a great job. Might be one of the best cuts I've had in a while.
7/18/04 We made it across the Lake today and made a quick stop at Brewerton on the west end of Lake Onieda. Found the spark plugs I needed at Brewerton Boat yard. Then it was on to Baldwinsville and Lock 24. Lock 24 is the first lock we ever did when we rented a canal boat the first time, some 5-6 years ago. The Lock 24 resturant sits right on the canal at the lock and the food is wonderful. Lots of nice folks came by the boat to talk with us and inquire about the make and builder. In fact, I talked too long and missed the 9pm cutoff at the Lock 24 resturant to order dinner. Oh well, maybe when we get back here in a few weeks we will be on time. They have a really great garlic steak. Also, haddock is the fish of choice up here and it is served every way and everywhere. The town has built a pavillion near the lock that is very nice and they have concerts every Saturday night in the summer. Tonight is Sunday so maybe next time. It's really cool here. Temp's are in the low 60s at night and low 70's in the daytime. I wish it would warm up just a little during the day so we could cruise with the windows open for a change. Westward tomorrow. We will be leap frogging the canal boats from here west. There is a fleet of about 15 I think and I recommend them as a great way to take a vacation and see the canal up close and personal. Anyone can drive one of these boats.
A few notes: We carry two 20 lb. propane tanks like you use at home for the barbque and so far, after 41 days of showers and cooking we have not used our first tank up yet. We also found out the the boat, because of it's flat bottom, has an effect on the bottom in depths of less than 8 feet. We learned this from going at the same engine setting from shallow water to deep water and watching the speed increse, sometimes as much as a full knot. We have repeated these results time and again and it was something we didn't know about when we started the trip but found out somewhere in the Chesapeke Bay on a calm day. We stay in deeper water for efficiency reasons now if we have a choice. The solor panels are working great and we rarely need to pay for electric at a marina. Only 3 times the first month we were cruising. People still love the looks of the boat. It has taken some getting used to but I'm starting to get used to the attention everywhere we go.
7/21/04 After spending two nights at Newark we made it to Fairport, NY today. Fairport has been our favorite town on the Erie Canal since we started renting canal boats some years back. Nice resturants, nice people and great tie ups for boaters. Sea Rose, a boat we have been following is here and we will have dinner with them tonight. We saw the amphibicar come by today after we tied up. It's always a little different when you see a guy drive by the boat in his car. This is the second time we have seen one of these cars on this trip. Fairport has a one of a kind lift bridge. It is higher on one end than on the other and when it is raised it goes up tilted instead of level like all other bridges. We are meeting family here tomorrow and will take them for a ride so they will get to open the bridge for us twice. It's finally hot!! Must be about 90 today and very little breeze. Good thing we have power tonight so we can run the fan. Pulling into Fairport today has really made us realize how good this trip has been and how far we have come.
I never really thought about what it's like to be "cool" but apparently we are. At least that's what the kids around the towns we're in say when they see our folding bikes. We are starting a nickel jar for the bikes. We are the envy of every 5-12 year old we come across. If I knew it would have been this easy when I was a kid I would have bought a truck load of folding bikes.
Cool boat, cool bikes. Cool, huh?
7/24/04 We bypassed Pittsford, another of our favorite towns and decided to head to Spencerport to get a spot on the wall for the Spencerport Canal Days event. We were just in time to get one of the last spots. The festival was nice with lots of people.
7/27/04 We spent the last two nights at Brockport. Stephanie and Fred Kaufhold onboard the River Runner met up with us and we had a nice dinner right next to the boat at the Galley Resturant. Deb and I had eaten there the last time we were on the canal and it has since changed but the food is still great. We left for the small town of Holley just 5 miles down the canal for the night. We arrived at Holley and found a spot for two boats with 30 amp power, showers and restrooms right next to the dock. Holley is a nice small town on the way back. Their tie ups are some of the best and very quiet at night. The four of us took a walk to the waterfall and then Debbie and Steph went off to a quilt store while Fred and I walked back to the boat to do some work. The phone rang a while later and it was Debbie and Steph wanting Fred and I to join them for lunch about a mile back to the quilt store that also has a cafe in the same store. Very nice lunch and good deserts and then back to the boat. We went to our 7th free concert to hear the Stright Shooters play country music until we had enough and back to the boat again. Holley was going to be a day stop for us but with Fred and Steph's company and everything to do we ended up staying the night and enjoying the sound of rain on the cabin top.
7/28/04 Left for Middleport after a nice fresh blueberry pancake breakfast onboard our boat with Fred and Stephanie as our first dinner (or breakfast) guests. Made it to Middleport. Not much here but they are trying hard. The laundry is just steps from the boat so we will stay the night. We are grilling out with Fred and Steph after the wash gets done. No food around here unless the work is done!! Debbie just told me they are having BINGO at the fire department and the jackpot is $1000 bucks. More local flavor. We'll see who wins.Debbie and Stephanie got to the fire house 15 minutes late so they would not let them play. Oh well.....
7/29/04 The River Runner and the Leah Gent made it to Lockport, NY and found a place on the dock for the night. Fred and Stephanie told us about the caves at Lockport so we decided to check it out. There are hand dug water tunnels under the town of Lockport that onced were used to power the mills there. Very interesting tour with a boat ride in the tunnel at the end of the tour. They are very much like the cave tours we have been on at home. Lockport at one time had a flight of 5 locks but today only has two big locks to lift you above the Niagra escarpment. These locks are really big and they lift you 25' each and are end to end. That means you drive out of one and right into the next one and get lifted again.
7/30/04 On to Tonawanda today. We wanted to get there early to get a dock and it's a good thing we did because they were full and rafted 3 deep the next day. Eddie Money was playing a concert at the harbor and we had a great seat on the dock next to the boat. We spent the next 3 nights there and had a great time watching all the goings on in the harbor. We are only a few miles from Niagra Falls at this point. Julie came down from Dental school for the weekend and slept on the boat. It was her first time seeing the boat in the water. We took her car and made a trip into Canada at Niagra Falls. Nice to have a car again!! I also bought a guitar to learn to play. I'm working on Christmas songs. I figure I might take a while to learn one song so it makes sense to learn a Christmas song.
8/2/04 We said good bye to Fred and Stephanie Kaufhold, our cruising friends for the last week, as they head west to Lake Erie and Lake Huron and we head back east for Oswego and Canada. We sure will miss them. We have a lot in common and Fred and I are in the same story telling league. Debbie and Stephanie had a great time shopping and our dinners on the dock were the best. Maybe we'll cross wakes again someday. We made it to Brockport for the night.
8/3/04 We waited in Brockport until after lunch to pick up a WiFi finder that my brother, Rob, had mailed to me and tonight we are back in Fairport for the night. It's further east tomorrow and hopefully we will be in Oswego by Friday to wait for a good weather day to cross Lake Ontario.
8/05/05 We are in Baldwinsville again on our way to Phenix? for the night. We stayed on the lock wall in the middle of nowhere last night and I caught my first Northern Pike on a nightcrawler. He was big enough to keep but I released him to fight again. It's COLD here. High of 66 today and very windy. Same for tomorrow. What happened to hot August weather. And we are heading even further north?? Today was our 60th day and 1500 miles on the boat. Still married, talking and having a great time. We also got the good news that we closed our deal with the Dept of Transportation and we now own our house free and clear. Finally, retired and debt free. Yippeeeeeeeeee..............
8/05/04 We made it to Phenoix, NY which is know on the canal for the Bridge House Brats. These are the local kids that have formed a business of sorts and help boats tie up, pump out and deliver food from the local resturants. Carlin was our waiter and brought us breakfast on the dock the next morning. Carlin is 12 or so and it was a real pleasure to have made his acquaintance. More communities should have something like this for their youth.
8/8/04 Left turn. That's what Debbie and I are known for the best. We really don't make plans so we can make left turns in the middle of our lives sometimes. We had planned to go to Ottawa and waited 3 days in Oswego to cross Lake Ontario but as the old saying goes, " The sea is so great and my boat so small". The waves were crashing over the 8' breakwater as we ate dinner Saturday night so we decided to error on the side of caution (a smart thing when one sails a flat bottom boat) and head back down the (safe) and (flat) Erie Canal towards Waterford and the Champlain Canal to see the sights in upstate New York and Vermont. We will be more able to take our time and relax than if we waited longer and hurried thru Canada. Maybe next trip. Maybe in a motor home. We are back in Brewerton tonight and will cross Lake Onidea tomorrow on a west wind we hope. We were really geared up for Canada but it just was not to be this time. We still have several thousand miles to put on the boat this winter so we will save our thrills for then. Besides, it's really cold up here and going to a more northenly latitude didn't sound like a warm idea. Remember, I'm trying to stay in 84 degree temps. I don't know if it's been out of the 60's this week. Makes one wonder what the winters up here in New York are like. The locals talk of 200 inches of snow. Key West sound good right now.
8/12/04 We are sitting in Amsterdam,NY again as we head east to Waterford and then up to Lake Champlain. We had another case of just how small the world is when we got here last night. There is a catamaran tied behind us heading to Rochester. We stopped to talk to them on our way to dinner last night and I had a strange feeling I knew these folks. Come to find out we were in Annapolis for the boat show last year and we met them on the street and they invited us to walk with them to a surplus sale that takes place the same weekend as the show. They were the ones that suggested I buy the plow type anchor that hangs on the roller at the bow. Small world. We had a rain last night and the drops looked like pearls when they hit the water. They had some sort or glow to them. I'm not sure what caused it but it was interesting to see. We get the same thing in North Carolina from the alge in the water and their biolumanesence.
8/13/04 We awoke this morning to the sound of rain on the cabin top and the threat of hurricane remnants heading our way. We are in Waterford,NY again waiting to see what the weather is going to do. They announced at the dock shortly after we woke that lock 11 and 12 going up to Lake Champlain are closed due to high water and debris in the water. With the idea of spending a weekend in the rain on the boat we decided to rent a car and head east to Mystic,Conneticut. It is hard sitting in a hotel tonight spending our first night off the boat in 68 days. The king bed is nice but I still worry about the boat when I'm not on it. I've noticed a few things that we take for granted when living on terra firma. It's been 68 days since I've seen myself in a full leangth mirror. I'm pretty tanned. The TV picture is sharp as a tack. Airconditioning!! Phones with wires and a real couch. And best of all....a bath tub in the head. Excuse me, bathroom. Oh how I miss taking a bath every day. I can't wait to get back to the boat!!!
8/15/04 We took a ride up to Lake George in the Adirondak Mountains and it reminds me of Gatlinburg,Tn. with a lake. We were told to stop at Saratoga Horse Track if we had time. We got there as the third race was starting after parking about a mile away. It was umbrella day and we needed an umbrella anyways so that was nice. The national past time in New York IS horse racing. There had to be 50,000 people there. Everyone brings the kids and makes a day of it and the atmosphere is like a big picnic with a lot of people. The track is fantastic with it's old architicture and tradition. All the best horses have raced here. Debbie and I placed a few wagers (I won 2 of my 3)and generally had a wonderful time. If you ever get to upstate New York be sure and visit Saratoga on a Sunday while the ponies are running.
8/16/04 I took the car back to Enterprise first thing and had the holding tank pumped out then we cast off the lines and headed north. We are in Fort Edwards in another blinding rain storm. This one even has lightning!! I ingested the bow line in the bow thruster briefly while trying to throw it over a cleat ont he dock, unsuccessfuly. My heart sank at the thought of putting a new sheer pin in but lucky for me nothing was damaged. It looks like we will be alone tonight. Fort Edwards has a lot to offer but we will wait until morning to get out and check things over.
8/17/04 We got up and decided to head to Whitehall but found out when we got near lock 7 that the canal was closed due to the rain last night and high water. Back to Fort Edwards. The lockmaster had said the locks might open in a day or so. We took the city bus to Glens Falls and took in the movie Collateral with Tom Cruise. Maybe tomorrow we will get to leave.
8/18/04 The locks were open and we made Whitehall today. Whitehall is the birthplace of the Navy. The first twelve ships were built here. We went to the museum, ate at the Finch and Chubb and walked around town to find ice cream. Whitehall is in need of an industry. The city is in need of repair but without the money to spend they will find it hard to revive.
8/19/04 We woke to an overcast sky and lots of wind. The forcast is for showers and 20 knots of wind so we will stay put and catch up on some sleep and getting this page updated. They have a library here that we will head to after lunch. We haven't had any wireless internet connections since leaving Fairport a while ago. Well we decided to head up the river and are in Chipman Point Marina tonight. We often change our minds in the middle of a sentence and that's what happend today. We left Whitehall after I had written my update but instead of changing it I left it alone to show just how unpredictable this cruising life style is. We really never know were we will be.